| | | |
| --- | --- | --- |
| | Society Forum - The Heraldry Society of Scotland | |
The Heraldry Society of Scotland welcomes you to its Community Forum. The forum is open to members and non members of the society to discuss the colourful world of primarily Scottish Heraldry.

The very active participants of the forum are of all ages and from all walks of life from around the world all with an interest in the Heraldry of Scotland.

We hope that visiting the forum will whet your appetite to learn more and join as a forum member and eventually perhaps become a member of the Society itself.

Please ensure you read the society's 'Code of Conduct' and are happy to follow the guidelines laid down for the Society's Community Forum before posting. The forum is moderated by various forum members, HSS members and Committee members to ensure that correct procedure of the code of conduct is followed.

Once you have registered a confirmation email will be sent to you to make sure your email address on the forum is valid before you are allowed entry. This process only takes a few moments as it is fully automated.

You will be unable to sign up to the Society forum using a hotmail or yahoo email address.
Please click this link to enter Society Forum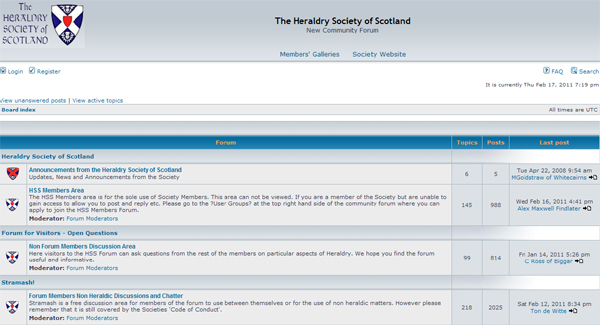 | | |
| --- | --- |
| © The Heraldry Society of Scotland last Update 05 Jun 2017 | |